Friday May 29 - 1:00pm - Partnership & Collaboration with Dunbar High School: High School Graduation.

Sunay May 31 - 10:15am - Celebrate with our Young Adults as they lead us in Worship

30 Days of Prayer For Baltimore 12 Noon

June - Recognition of graduates (active members) elementary, middle, high school, and college

Sunday, June 14 -10:15am - Pastor's Anniversary, Guest Pastor: Kenneth Barney, New Antioch Baptist Church, Randallstown Maryland

Sunday, June 28 - 10:15am - Family & Friends Day, Let's pack the pews.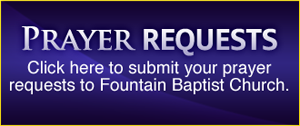 What Is A Vision
Many hear the word Vision, but do you actually understand what A Vision really is. A vision is much more powerful that what many see it to be.
A Vision is born in the soul of a man or woman who is consumed with the tension between what is and what could be. Anyone who is frustrated, or brokenhearted about the way things are, in light of the way they believe things could be.
Vision also carries with it a sense of conviction. Its not only what could be done, but what should be done. It's something that must happen. It moves you from passive concern to action. Conviction is what gives vision a sense of urgency.
Our Vision
Fountain Baptist Church is destined to serve the holistic needs of humanity with the Good News of Jesus Christ and determined to reach the world with a kingdom focus.
Fountain Baptist Churches Vision, Vision 2015, involves the participation of several community organizations, such as East Baltimore Schools, Churches, and John Hopkins Hospital for a few. Fountain Baptist Church's Vision also includes assisting the community. Thank you in advance for your support of Vision 2015.
Click the links below to download more information
Vision 2015 Campaign Slideshow Presentation
Vision 2015 Informational Brochure
Click on the donate button below to donate to Vision 2015.