Sunday, June 24th, 2018 - 10:00am
Friends & Family Day

'God's Family Reunion'
Guest Preacher Rev. Daniel Carter of New Shiloh Baptist Church

Each family pick a color to wear and show your spirit!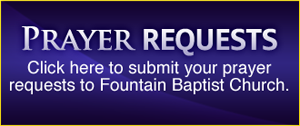 OUR HISTORY
Fountain Baptist Church was founded and organized by a group of Sisters and Brothers who assembled at the home of Sister Eliza Carey. Sister Carey lived in the 1500 block of North Dallas Street in East Baltimore. There they sang, prayed, and talked about the goodness of God and His mighty works. This group consisted of Sister Eliza Carey, Rosa Hunter, Mildred E. McCormick, Lizzie Smith, Minnie Roy, Josephine Shaw, Roseline Redd, Reverend Jacob Darning, Deacons James Watkins, Eddie Watkins, Morgan Hunter, Sanders, Dan Taylor and Brother William Redd.
In May 1902, The Reverend Jonnie Jones, Pastor of Ebenezer Baptist Church, learned of this group of Christians through two of his Deacons, John Robinson and Doc Robinson. Reverend Jones met with Sister Rebecca Smothers and Sister Roseline Redd to arrange to have Reverend C.M. Ball Fields, of Philadelphia. Pennsylvania come to Baltimore and conduct a meeting. After the meeting, Reverend Jones and Reverend Fields assisted the group in organizing a church. The church was name "Fountain Baptist Church"; the name Fountain was derived from the hymn that was sung so often by Brother William Reed entitled, "There Is a Fountain Filled with Blood."
Then, the members called Reverend Fields to serve as pastor. With this faithful group, the pastor organized a Choir, a Missionary Circle, a Board of Trustees, and a Sunday School. After organizing these groups, the membership desired a building to worship in and was successful in acquiring the building at 1011-1013 North Durham Street. During the first year, Reverend Johnnie Jones and the Ebenezer Baptist Church assisted Fountain with her Communion Services. As a result, forty-one members were added to the church roll.
For three years, the membership continued to grow. At the end of the fourth year, Pastor Fields accepted a call to minister in Norfolk, Virginia. Soon afterward, the members asked two Associate Ministers, Reverend Jacob Darning and his son, to serve in the pulpit until another pastor was appointed.
In 1906, the Reverend E.C. Layne of New Jersey was called to serve as pastor. The members and the newly elected pastor were successful in organizing two Rose Bud Circle and one Adult Council named Layne's Excelsior Council No. 773 1.0. of Saint Luke. After three years of service, the pastor's health began to fail. In 1909, he passed to his eternal rest.
In 1910, the Reverend R.B. H. Green was called a pastor. The church progresses financially', spiritually and numerically. Due to the growth of the membership, more space was needed. Therefore, the church purchased two houses, 1035 and 1037 North Wolfe Street and a building in the 1000 block of Rutland Avenue. Before moving into either of the buildings, the pastor and the officers were informed of a church building that was for sale. The building was located at Hanford Avenue and Chase Street. After the building was purchased and renovated, the congregation moved in. When the first baptismal service was held in the church, 28 converts were baptized.
Reverend Green served as pastor for about 14 years. The membership became dissatisfied and Reverend Green was asked to resign. The resignation was obtained but not without some difficulty, the pulpit was declared vacant and the church was without a pastor for a few months.
In 1926 or 1927, the Reverend J.R.L. Coel of Wilmington, North Carolina was called as pastor. Reverend Coel was a great preacher of the Gospel of Jesus Christ. Under his leadership, the membership continued to grow. Again, a more spacious building was needed. The church contracted to purchase its present site, 1211-1219 East Monument Street for the price of $30,000. At the new location, the pastor served well only for a few years. Therefore, there arose some dissension among the membership. As a result, Reverend Coel and 300 members left Fountain Baptist Church.
There were faithful and determined few who remained at Fountain. For ten months, Reverend Dennis Barrow served as acting pastor while Reverend Simon Williamson, pastor of the Faith Baptist Church, served a spiritual Advisor to fountain. Reverend Williamson gave much needed advice to the membership.
In 1932, the Reverend W. D. D. White of Richmond, Virginia was called pastor. During his first and second years, he ordained eight Deacons and organized five more auxiliaries. During the latter part of his administration, the indebtedness of the church increased from 30,000 to 34,500. As a result, the church ceased to progress due to much discord among the membership. After a great deal of controversy, Reverend White was asked to resign. The church was split again when Reverend White and a group of members left the Fountain Baptist Church.
At the advice of Reverend Williamson, Reverend Barrow was again selected to serve as acting pastor; this time he served in the capacity of a pastor for 14 months.
On February 9, 1933, Reverend Barrow was ordained. For one year he pastured the First Baptist Church in Port Deposit, Maryland.
On January 5, 1938, Fountain called Reverend Dennis Barrow to serve a pastor. Reverend Barrow was born in Scranton, North Carolina. He received his early education in the public schools of North Carolina. After coming to Baltimore, he attended Douglass High School and graduated in June 1939. He received his theological training under the late Doctor Willis J. Winston.
During Reverend Barrow's administration, Fountain made great accomplishments through the guidance of the Holy Spirit.
In 1944, the church was renovated and the mortgage was paid off. Five years later, the church was completely remodeled and the debt was paid off in a period of three years. During this time, the church had a membership of approximately 1,700 members. The following year, in 1945, Fountain accepted Reverend Barrow a pastor for his life-time.
Former Pastors
1902 - 1906 Rev C.M. Ball Fields
1906 - 1909 Rev. E.C. Layne
1910 - 1924 Rev. R. B. H. Green
1926 - 1929 Rev. J.R.L. Coel
1932 - 1934 Rev. W.D.D. White
1938 - 1971 Rev. Dennis Barrow
1972 - 1977 Rev. Charles M. Franklin
1979 - 2005 Rev. Herman A. Ford
2007 - 2016 Rev. Dr. Michael A. Chambers